(Ultra 64, 1999)
If you'd ask the typical person, the reason to buy Sony's PlayStation over an Ultra 64 was the RPGs. If you were to ask them to elaborate, they would specify that the Ultra 64 ROM cartridge's soft limitation (a financial one rather than a hardware one) of 64 megabytes just killed its chances of ever attaining full success. Nintendo, being forward thinking, realized this before the console released, developing the 64DD in tandem with the Ultra 64. It seemed like a good solution, it could be used on its own for 64DD-only games or in tandem with a cartridge to provide expansion packs, modding functionality, or even full sequels using the original game's engine for cheaper than a half-sized cartridge. Sounds great, right?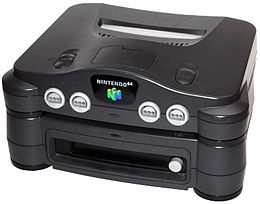 That up there should be under every Ultra 64 you find in people's homes these days. But then, only at most 35,000 units ever moved. Why did nobody want the 64DD?
Well... that's not quite the case. People who very well may have wanted the 64DD were completely ignored by Nintendo. I'm sure you're well apprised of the story by now so I won't linger on it, but 64DD was only released in Japan and never came westward. But wait, there's less talked about details to the story that all add up. Starting with...
.
.
.
.
.
.
.
return home / return to the ultra 64 page / this page written february 19th, 2020, and very overdue